Death By Abortion In Two Weeks; Death For Conviction Of Capitol Crime = 20 + Years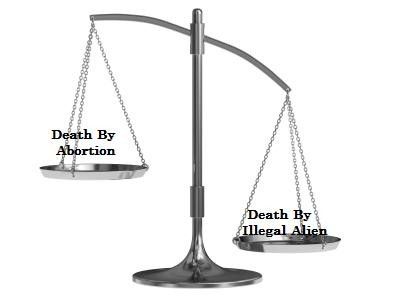 I am not one to immerse myself in the abortion debate too thoroughly. I'm not a woman, so I'm not allowed to have as much an opinion on the subject it seems. But I am known for having strong outwardly vocal and written opinions on hypocrisy. And hypocrisy is precisely the term that describes the judicial system's handling of the recent death penalty appeals of a Mexican man convicted of murdering a cop in 1994. His name is irrelevant. It's irrelevant because he shouldn't live past his execution, save to serve as a reminder to other would-be murderers of the consequences of their future actions. His name is also irrelevant because his case could be just about every single case in California, although his was in Texas. California has more death penalty convicts dying of old age and natural causes while they're behind bars than have been executed.
Now I'll admit I'm a death penalty proponent. You do the crime, you shouldn't get any more time (here on earth). But, I'm also a justice proponent (fair, impartial jury, with adequate defense). That said, this Mexican convict got his days in court. He got his weeks, months, years, and get this...his decades in court. Over 20 years of justice. Still, there are people shilling for him as an injustice issue. John Kerry, the secretary of State no less, as well as the Mexican government, and an assortment of Mexican heritage hailing Texas residents. John Kerry filed last minute objections to the execution, as did the Mexican government, and the courts.....they have indulged this convict's delaying tactics so long that many people don't even remember why he was a convict in the first place (because he's a Mexican, if you believe the racist tripe coming from America hating dual citizens).
Now compare the delays, appeals, objections and such from the convict, the convicts supporters (anti-death penalty groups), the convicts countrymen, and our own state department, to those of a child in the womb facing a death sentence of an abortion. That child gets no court appointed lawyer, no trial, no appeal, and objection from the state department (which would be his or her government official to lodge a complaint like Mexico's did ). That child also gets about zero time from the decision (verdict by the mother) until the sentence (abortion) is carried out. It could be less than two weeks really.
So why do the courts see things so differently? They've ruled that the mother is the supreme authority while the child is in the womb. Conversely, the courts consider all other authorities for a cop killing alien, and take decades to pour over the cases in between other case to the exclusion of the original sentence's primary reasoning. I only see hypocrisy here. We'll never see John Kerry filing an appeal for an unborn baby as long as there is a few hundred thousand Mexicans rotting away from old age in American prisons while awaiting executions. It also shows who our secretary of state values more; American citizens or, albeit unborn, or Mexican murderers of American citizens. But what's more baffling to me is why the courts reason this way. Over 20 years worth of trials, appeals, set asides, motions, and remands for one lousy murdering alien pond scum. But they won't consider an appeal on behalf of a helpless American fetus.
Whatever your stance or position is on abortion, you should consider the courts hypocrisy above it. If abortion is the law of the land, let's start handing out sentences first. That way we at least have fairness in the system. Either the fetuses get a fair trial with years of appeals and advocacy from their state department, or start sentencing these convicted alien murderers to abortion, since it seems that form of execution takes no time and costs less than a running car on CraigsList.