July 22nd
Breakkie was in today at 10:00 am. Next on the agenda was a trailer and truck wash before we pulled out for the road. The campground had free use of their pressure washer and we were carrying a couple hundred pounds of Canadian dirt with us from the dirt roads before. About an hour of scrubbing and washing brought us to an acceptable level of cleanliness. We got on the road and headed south towards home. We saw a couple of bears today, and it rained quite often. This leg of the trip started to show us civilization more often. There was houses, farms and businesses every few miles. It signaled the end of the trip for me as there was no more magical remoteness ahead of us. There was a bear along the road, but little else in the way of wild animals We stopped at a Chinese food place for lunch/dinner and shopped a little at a dollar store. Before we started on the road again, we shopped at the grocery store for some fruit and juices. We stocked up the refrigerator and hit the road again. The campground we stayed at was off the road a mile or two, and we muddied up the trailer again because it was a dirt road. Like so many before it, this was a bit of a parking lot with lots of plants around it. I tuned the TV in and we watched a few channels and went off to bed in near darkness for a change. It rained gently most of the night.
July 23rd
Elaine had breakkie ready when I got up at around 7:00 am and we warmed up the truck for another long haul day. We drove for miles and miles averaging 65 per hour and saw only 2 deer the whole day. British Columbia is a beautiful province though. It is lush with vegetation, populated with mountains that are ripe with streams and waterfalls, and there seem to always be clouds of water vapor hanging over the hills and valleys like smoke after a big fire. We once again followed the mighty Fraser river through the gorge towards Vancouver BC. This river is one huge, fast moving body of water. The river is not really white water at every turn, but it is always roiling, and filled with eddies and whirlpools. Big ones too. I doubt one would survive a fall into this river. We arrived at our campground in Hope about 4:30 PM. I tried to get the truck serviced but there was no shop here that carries late model Dodge truck parts. Luckily I had purchased an air filter at the Napa auto parts store back in the last town before we came through the canyon. Our filter was as dirty as I have ever seen it before. The filter minder was almost in the red zone. After settling in the camp, I went back to town to shop at the store. This grocery had really old equipment in it, but it was stocked to the max. There was no room for customers to pass in the aisles without bumping each other and some of the stock had to be reached with a ladder. I bought some fruit and Belgium pancake mix. Then I drove up to the bakery for some hamburger buns. After we had hamburgers we set off on a hike to the waterfall about a mile away. The path was clearly cut through the woods, but it was really wilderness and jungle like as we walked uphill towards the falling water. Raspberries were wild all over the place and towering trees reached up so far they blocked the sky. The hike up was approximately ¾ mile to the falls where a few hundred
rv rentals arizona
gallons per minute of very clean looking water were falling just about straight down from 1,000 or so feet above us. Heavy moss carpeted the rocks making it look like a lush, well manicured lawn. I tried climbing up a ways, but it was incredibly slippery and now was a bad time for a fall. We headed downhill at a brisk pace that soon accelerated to jogging. This kept us 1 step ahead of the mosquitoes as well as hastening our trip to the trailer. Tonight we were to see a little darkness before our bedtime which lent itself well to sleeping.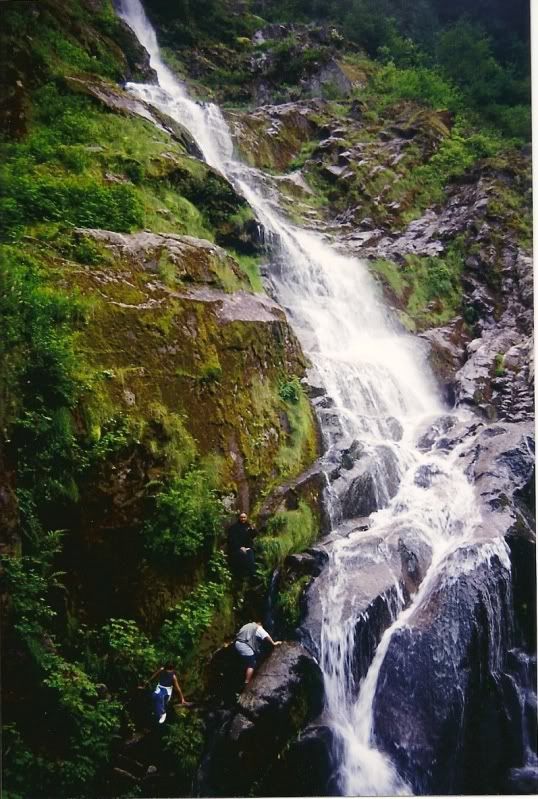 July 24th
We are off pretty early today since there are many miles to go. We don't know how far we are going to get, but everyone has a secret goal that seems to grow farther with each passing town. We pass back through American customs with no fruit loss and minimal time. At our first stop at a roadside rest, Ray and Ann decide to go on alone and give us back our hand held radio. We go on to pass Washington, Portland, Eugene, and other points south. We settled in for the night at a private creek side campsite just a few miles west of I-5. We covered over 500 miles today. After settling in, Elaine and Sara went off to the camp shower while Joey and I sat by the creek and watched bats swoop within a couple of feet of us while they entered and exited their home. Small fish jumped after the hundreds of bugs that were hovering over the water. We picked a few handfuls of blackberries and went back to the trailer for bed. During the night, and it was really night now, all of us were awakened by a mysterious loud noise that sounded like a landslide. We slept a bit lighter for the remainder of the night.
July 25th
In the morning, we found out that the noise that awakened us was rail cars being loaded with logs. They'd just dump 50 or so logs into the bottom of an empty steel car and let the sound reverberate for 10 miles or so. Glad we don't live near here. Our first chore today is to find a restaurant. This proved a little more difficult than we thought considering this was not the Yukon or Alaska. We had to go as far as Grants Pass to be treated rudely at a busy, dirty restaurant. We tipped the waitress with two Canadian quarters and I think that may have been too much, even at current exchange rates. Our path was clearly ahead of us now. I-5 south for 400 plus miles. Everyone is anxious to get home and do something special like pet the dog, soak in the spa, or sit on the balcony. Our first welcome back to Sacramento was extended by the 5 o'clock commuters who reintroduced the frantic pace of city freeway driving back into our lives by carelessly weaving in and out of the lane we are in without signaling, or even looking in some cases. The anxiety of watching out for so many rude, careless, and even obnoxious drivers after being away from them for so long does not fit well right away. I can't wait to get home and get out of the drivers seat. Our street looks smaller than when we left as we pull in, but I chalk it up to perspective which I have in bushels right now. I am sincerely glad I made this trip and would go again next year if it were possible.