A recent public records request I made to the Sac County Registrar of Voters was granted today, and this time my choice was to inspect rather than copy, so I had to make a personal appearance to do this. This is the main elections administrative office for this county, and so gets a lot of traffic in that regard. While I was there, I snapped this photo of a poster on the wall: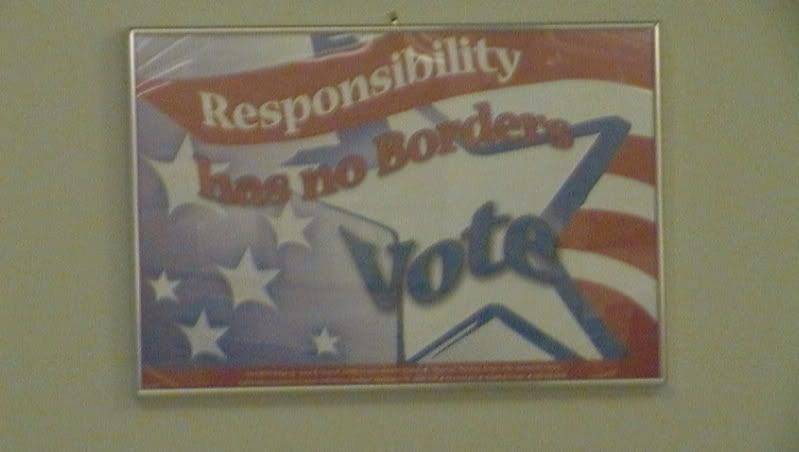 Now many of you know I'm not usually one to jump head first into conspiracies, and the voter fraud realm is no different. I do believe illegals vote. I don't believe that illegals vote in sufficient quantities to change outcomes of races for the most part. I do believe that day might come though, and sooner rather than later if the attitude and direction of the governing authorities on elections doesn't change.
Elections are a sacred rite of citizenship, and shouldn't be constantly under threat of outside influence. But we live in an age that encourages participation without many restraints, and many of us believe there are actually none. Encouragement, in the terms of enticement, beckoning, or non-enforcement, is always in view nowadays. We have the US Department of Justice threatening to sue anyone who demands proof of citizenship at the polls, municipalities across the nation trying to get illegals to vote in local elections, and of course, when a fraud case is discovered, a prosecution is about as rare as silver hens teeth. So voting in an American election might easily be done by an illegal simply by mistake. Hey; Holder Sues for them, the mayor says he wants them to vote, and no one ever gets arrested, so what's to lose?
This is why the attitude must change. Not only to protect the integrity of the system, but also to protect non-citizens from making illegal choices. This poster hanging on the wall in an election office is precisely the attitude I'm talking about. You'd think this county registrar would have a clue that this just might end up interpreted the wrong way. The poster itself was designed by some youth who won an award from the military. the premise was to encourage military personnel to vote regardless of their location. But this is California, and the propaganda machine never misses an opportunity to make use of a nuance the likes of this. I might add that this poster was printed up in 2005, yet it only made its' way to this office this year. Sorry, but I have to call BS on this one. I think the open borders lobby is taking advantage here, but it is of course to defensible to challenge.
We'll just have to chalk this one up to the attitude that needs changing