Chick Fil-A in Torrance
---
Yesterday, I finish my appearances in Torrance before noon, and am heading home on Hawthorne Blvd. when I call my sister and ask if she's shoved lunch in front of my mother yet (My sister now lives w/ my mother at the latter's place of residence, and basically spends all her time caring for her. She's old, pretty crazy, but in relatively good physical health for someone pushing 86). She states that she hasn't and I tell her I'll cover it.

I pull into the parking lot of a newly constructed Chick-Fil-A restaurant that has been open for about a month and has been doing land office business. The facility has two drive-thru lanes and a sizable parking lot that is entirely jammed once 11:00 a.m. hits. I was lucky. I found a space in the corner of the lot and didn't have to park three blocks away, as I did the first time I patronized this establishment.

Anyway, I stand in a reasonably lengthy line, place my to-go order, and stand around waiting for my food while it's being prepared. As I'm taking this nice new facility in, with all the customers chewing and slurping away, I'm struck that something is different here but I can't quite put my finger on it. About five seconds later, I see a trim and neatly groomed African-American gentleman, roughly my age, bustling about replacing condiments in a dispenser. While he's doing this over a period of about 90 seconds, he took the time to wish two separate departing patrons well and urged them to come back soon. The guy was so professional, polite, and seemed genuinely anxious to be a good employee, that, after I received my food, I passed by him and said "If I owned a place like this, you would be the first person I'd try to hire." He looked up from what he was doing, smiled, and asked me if I wanted a beverage holder for the two sodas that came with my meals.

As I was heading out the door it struck me, and I turned around to confirm what I had just realized: Everybody working there was an American. There wasn't a single illegal behind the counter or in the food preparation area. The folks that own this Chick-Fil-A have pulled an In-N-Out. No one there is sin papeles. It was obvious. It was like when I visited Idaho and Montana a couple years ago. Everybody working the jobs that Americans won't do actually belonged in the country.

There were white kids, black kids, Latinos and even a couple Asians. Mostly teenagers, but a few people past their 30th birthdays, as well. None of them apeared to be managers, or wore name tags denoting such a status, and all I was hearing was English. And not I've-been-speaking-this-language-for-six-years-now English. These were all Americans scurrying about in this outlet that has more business during lunch hours than it knows what to do with.

Just FYI. In Southern California, this is qualifies as "unusual."
__________________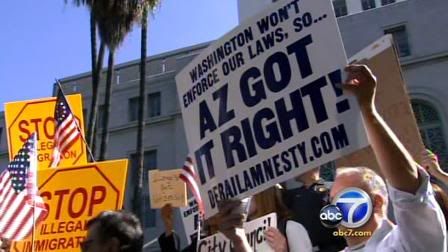 ---
Last edited by DerailAmnesty.com; 03-02-2012 at

05:50 AM

.